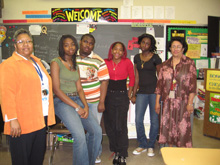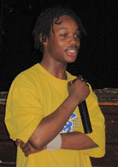 The Hilltop
March 16, 2007                          Campus Group Urges Abstinence  
Vanessa Mizell
Contributing Writer
He's more than willing to show you his two bullet wounds on the side of his arm and on the night he led his organization's meeting, 31-year-old Carl L. Miller didn't even realize he was wearing the same shirt   he had been car jacked in outside his Southeast home nearly two years ago.
When he lay in the hospital bed watching doctors extract bullets from his flesh, all he could think of was: "I've got 60,000 dollars in student loans! I can't go now! I haven't done anything for you yet God!" he recounted jokingly behind a kiddish smile and emerald green eyes.
Howard graduate student and licensed social worker, Miller said that it was the night he was face-to-face with the barrel of a gun against his Lexus GS-300 window and the viewing of a documentary on HIV/AIDS that drove him to saving lives.
Miller and Kristi Love, also a graduate student in social work, decided to create S.T.A.A.N.D., Students Against AIDS and the Abolition of National Denial. The organization seeks to highlight the pandemic's crisis in the African-American community and combat the ignorance thereof.
"AIDS is one of our enemies," Miller said.
For that reason, S.T.A.A.N.D is charging all Howard University students to abstain from sex for a semester. The initiative is called Semester of Abstinence and Advocacy and it challenges Howard students because Miller feels strongly that the university is the leader of the African-American community.
The general response he gets from students when proposing the initiative?
"Huh? What? You want me to do what?" he imitated. But he and other members of STAAND say that many students are receptive to the cause behind the idea.
"People really want to know it and just may not know the proper steps to make change," said freshman African-American studies major Nikita Ford, who decided to join after she attended the organization's co-hosted panel entitled "Sex Matters."
This week's meeting, STAAND discussed ways for members to be certified in HIV/AIDS starter facts. The group also wants to find ways to engage the community.
In a visit to Ben's Chili Bowl last week, Miller read that a group of Middle and High School students were holding a panel discussion to kick off their Abstinence Awareness Week, challenging the D.C. metropolitan area and District Council members to promote abstinence as a way to curb HIV/AIDS, STDs and other health dangers to D.C.'s youth.
Miller knew he had to attend. He did.
The eight panelists ages 12 to 20 all belong to an organization called Ultra Teen Choice, a local teen peer-counseling program.
"I'm too young to be having sex," said eighth grade panelist Sabrina Donelson in her introduction.
When the floor was open to comments from the audience, Miller approached the microphone and championed the students' decision to abstain from sex. Regarding the subject that surfaced about the impact of the media, Miller also shared his story about his first assignment as a social worker.
"It was an 11-year-old pregnant girl whose 24-year-old mother had full blown AIDS and when I walked into the living room, the rest of the kids were sitting there watching BET."
The co-founder and executive director of Ultra Teen Choice, Richard Urban believes that abstinence should be the standard for the youth and questions why the government doesn't fund more "serious" tracks to help youth stay abstinent. He disagrees with the promotion of condoms to encourage safe sex.
"The majority, 52 percent, [of youth in D.C.] have never had sex. That's down 16 percent in two years and that's not because they're handing out condoms. These are kids who are saying, 'I've never had sex.'"
But watch out for misleading figures, says Family Nurse Practitioner Anne Squires. She has been working at Eastern Senior High School's Unity Health clinic for nearly six years. The clinic is only one of two in the District located inside a school.
She agrees that abstinence is a great tool for curbing STD rates but says that a lot of students are not making that choice.
 "I think we have to be realistic," Squires said. "If they have made that choice then I feel it's my responsibility to help them make safe choices."
According to the Centers for Disease Control and Prevention, the District has the highest rates of HIV infections in the country. The Administration for HIV Policy and Programs reports that nearly 1 out of 50 District residents is living with AIDS.
Miller still believes that abstinence until marriage is the only way to combat the HIV/AIDS disease, whose most common victim in the U.S. is likely to be an African-American woman.
Beyond Howard students, Miller also challenged Democratic Presidential candidate John Edwards about the issue while the former senator visited the campus yesterday. Edwards did make mention of the AIDS pandemic in Africa.
Miller rushed Edwards after his speech in a crowded School of Business lobby: "I know Africa's bad, but what's your plan to deal with it here in America?" asked Miller to Edwards.
"I haven't announced a plan yet but I'm working on it now. I know it's a big issue," responded Edwards distractingly as he and his team snaked through the throng of students.
Miller said that STAAND will be contacting Edward's aides to arrange a meeting. "I'm not going to say that Edwards doesn't have a plan," said Miller, "I just can't wait to see what it is."